Welcome and thank you for your interest in Toloriu, once an old barony with a castle fortress and now a quiet and peaceful village.
According to Joan Corominas Tolorui would be etymologically related to the Germanic name Toluric. For other scholars, however, the name comes from a Celtic voice tullos that might mean that in this place there was a deep river or a natural water reservoir.
On the following pages you have a collection of data that may be useful if you ever want to leave the urban world and go into the breeze of the Pyrenees.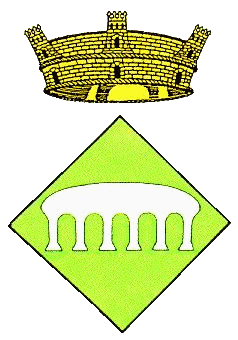 Currently Toloriu is one of the five villages that have merged to form the municipality of El Pont de Bar (Bridge Bar). Here you can see the coat of arms of El Pont de Bar with a bridge. Actually there was an old bridge from the XI century that was flooded away in November 1982. That old bridge had only a bow. In the modern coat of arms there are five bows symbolising the five main population centres in 1970, when the municipality was created: Aristot, Els Banys de St. Vincenç,  Bar, Toloriu and Castellnou de Carcolze.
Nowadays the villages and hamlets included in El Pont de Bar are: Ardaix, Aristot, Bar, Castellnou de Carcolze, El Pont de Bar,
Els Arenys, Els  Banys de Sant Vicenç and Toloriu.